Thanks to our very kind Hurling and Football sponsors O'Briens Garage and Maureen's Pub, Mallow..
Due to last weeks weather all games over the weekend were cancelled.. The first game of the coming week was played last night with our Junior Footballers lining out in Division 1 League action again Charleville in Mallow.. Given the conditions(heavy rain followed by heavy snowfall, a draw seemed a fair result. At full time it was Mallow 1-7 Charleville 2-4.. Well done lads!!
Fixtures:
Co. Division 1 IHL Mallow V Charleville, Sunday 11th at 230pm in Mallow.
Division 1 JHL Mallow V Dromina, Sunday 18th at 11am…
U-21 Football Championship Mallow V Fermoy, Monday 19th March at 3pm in Ballyhooly..
County fixtures:
Mallow, March 20th SFC Divisional Section, Senior Football Championship Seandun v Duhallow, March 20th at 7.45pm in Mallow.
Senior Hurling Championship(Divisional section) Duhallow v Avondhu, March 22nd at 7.45pm in Mourneabbey…
Premier Intermediate Football Championship Round 1 Na Piarsaigh v Newmarket, April 8th 2.00pm In Mallow
Senior Football Championship Round 1 Kiskeam v St Nick's April 8th at 3.45pm in Mallow..
Premier Intermediate Football Championship Round 1, Nemo Rangers v Kanturk, April 15th at 6.15pm in Mallow..
May 13th Mallow, Intermediate Hurling Championship Round 1, Kildorrery v Dripsey, May 13th at 3.30pm in Mallow..
Cavanagh's of Fermoy 'Win the League, win the car' club development draw…
Cavanagh's of Fermoy have a long standing sponsorship arrangement with the Avondhu Board. The Cavanagh's of Fermoy Hurling and Football leagues have become fiercely competitive as clubs strive to become one of 6 successful league winning clubs to enter a draw for a car. Mallow's Junior Hurlers qualified last year having won both the Division 2 hurling Championship and league finals.
This draw now in it's eight year, has raised in excess of €700,000 for the sucessful teams that win the Avondhu Divisional Football and Hurling leagues.
The draw includes a prize fund of a Ford car in addition to 2nd and 3rd prizes of €1000 and 15 cash prizes of €250. Tickets are €20 each with a 3 for €50 option also available. This represents an excellent opportunity to raise substantial funds for our club development and members of the club are currently selling tickets at present. Remember if you're not in you can't win!!!
Steve sorry forgot this!!!
Mallow GAA Bingo returns..
Mallow GAA Bingo resumes next Friday night 9th March, after a two week break, which was due to unavoidable circumstances…
We would like to take this opportunity to welcome back our regular and loyal customers and maybe also a few new faces., at the usual time of 8.15pm.
As a token of our appreciation for their continued support, we are having a special night on Friday 16thMarch, when all books will be half price. Hope to see you all then!!
Thank you all…
Mallow GAA club Lotto
NUMBERS DRAWN 2 16 22 32
JACKPOT NOT WON
SPIN THE WHEEL WINNER
€75 RICHIE WILLIS C/O MONA'S BAR
€30 LUCKY DIP WINNERS
JOHN DINEEN C/O CONOR HEALY
MAUREEN QUAID C/O SHEEHAN'S GREENGROCERS
CLODAGH KIELY C/O CIARA HOULIHAN
SPINNING THE WHEEL 13.3.18
THE NEENANS C/O TOM O'NEILL
JACKPOT 13.3.18 €4,100
Mallow GAA players getting behind the 'Win the League m, win the car' club development draw…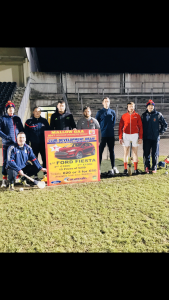 Wednesday night's deluge of wind, rain and snow…